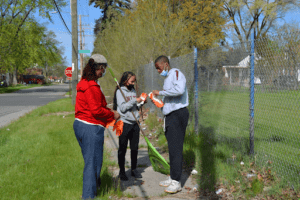 Neighborhood Improvement and Issues Committee
The Neighborhood Issues and Involvement Committee (NIIC) works to ensure that our square mile is clean and welcoming. In 2021, OHCPA adopted 10 "Lovable Lots," to beautify and deter blight and dumping by cleaning up all debris. On Earth day, we led the clean-up of the Southfield Service Drive from Seven to Eight Mile Roads with the help of District One staff filling up 4 dumpsters.
For Motor City MakeOver on May 1st, cleanup efforts focused around the former site of Ludington Middle Magnet School.
Later in 2021, the "Lovable Lots" initiative gained so much momentum that ten more lots were adopted, now totalling 20. The "Lovable Lots" remain blight free. This was made possible through private grantors that believes in OHPCA's mission. The Ashton, Glastonbury and Southfield lots are being utilized by the community in many ways; such as the Northwest Detroit Youth Coalition or neighbors throwing a giant 4th of July block party.
Applying data to drive our decisions is key to the initiatives we put action to with the aid of a comprehensive database maintained by Board Member Dan Grant and frequent physical surveys of our neighborhood, decisions are made on how to act. This data is used to identify homes that are in violation of city codes, such as trash cans left at the curb outside the collection schedule, cars parked on the lawn, and homes in need of community help.
Community Driven Transformation of O'Hair Park was monumental to the start of working collaboratively with the City of Detroit's Office of Blight Remediation. The NIIC wrote a letter to request a meeting with the Mayor of Detroit to address ongoing problems with the way the City and numerous departments handle blight issues.