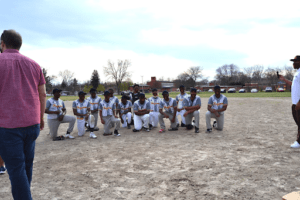 Blake Griffin, former Detroit Pistons, donated uniform shirts to the Boy's Baseball team on April 10, 2021. It was great to see the team united in their new uniforms and looking like winners.
OHPCA views Henry Ford High School (HFHS) as our second gem after our park. HFHS is home to over 800 students with special programs in drones, robotics, and coding.
Lawrence Technological University extends a dual enrollment/early college program where a student who is in school can earn a high school diploma and associate's degree within five years.
As a member of the School Advisory Council, we meet monthly to discuss how we can support and service our students and families while we collaborate in conjunction with the 8th Precinct of the Detroit Police Department, the Parent organization, Principal Mokdad, staff from Henry Ford High School, and faith-based organizations.
In 2022, OHPCA plans to sponsor two HFHS seniors' dues. We are looking to work with HFHS to register our 18-year-old students to vote and assist in any tutoring/mentoring that is necessary.
Additionally, initiate advocacy on behalf of our beloved gem to complete the swimming pool and invite partnership to restore the tennis courts to their former glory while offering tennis classes to students, seniors, and the broader community.