We acknowledge businesses who have provided support to OHPCA on Business Appreciation Day by presenting them with Certificates of Appreciation and proclamations from Mayor Duggan and the Governor's office, state senator, state representatives, and congresswoman.
We plan to spotlight 2 businesses and honor 4 businesses willing to partner with OHPCA's vision for a safe, healthy, vibrant and economically sound community.  Additionally, OHPCA plans to increase our business engagement and membership by completing a Neighborhood Business Directory to connect residents to the goods and services local businesses have to offer.
"Business friendly fridays"
OHCPA visits businesses to pass out PPE, gloves, masks, hand sanitizers and provide information on Detroit Means Business. Detroit Means Business delivers tangible resources and support to small businesses throughout the city of Detroit. Ask us to find out more!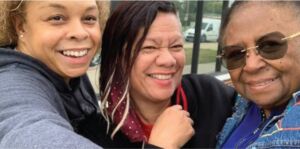 Business Committee Chair -Doris Topping, OHCPA President – Gail Tubbs, and Business Liason for District 1 – Tenecia Johnson enjoying visiting 6 businesses in the community